Description
Intel Xeon 9th generation Quad-Core CPU
Server-grade ECC memory: 8 GB ECC DDR4-2666 (Max 128GB, 32GB x 4)
2U chassis design, 12 SATA drive bays
Dual M.2 NVMe SSD ports for fast caching
Complete iSCSI/IP-SAN and NFS support. VMware, Citrix and Hyper-V ready.
Supports Virtualization and Docker apps
PCIe slots for 10/25/40/50 Gigabit Ethernet cards as well as SAS cards.
Windows ACL support combined with Windows AD infrastructure enhances management efficiency for business applications
---
Intel Xeon Quad-Core CPU
The Lockerstor 12R/16R Pro features a powerful Intel 9th generation Xeon with four cores. Not only is the Xeon extremely fast in both read and write speeds, but also lends incredible performance to virtual machines and Docker apps.
Powerful Hardware and Top flight performance
Intel Xeon 9th generation Quad-Core CPU
Supports and uses ECC RAM.
PCIe support for 10/25/40/50 GbE cards as well as SAS cards.
Dual M.2 NVMe SSD ports for fast caching.
USB 3.2 Gen-2 Type A/Type C

---
"Find Me" Function and Service Light for Server Rooms
In enterprise environments, storage devices are commonly placed together in a server room. In order to allow administrators to quickly find the NAS from among many servers the Lockerstor 12R Pro(2U) / Lockerstor 16R Pro(3U) provides a dedicated button on front panel. When this button is pressed, the LED service light on the rear panel of the NAS will light up. ASUSTOR also offers the mobile NAS management app, AiMaster which provides the exclusive Find Me function. When Find Me is activated, the system status light on the front of the NAS will flash and the system buzzer will sound, helping users to quickly find the NAS.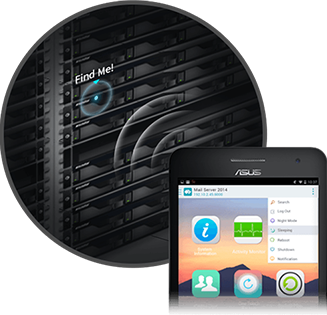 ---
Agile Expandability
The Lockerstor 12R Pro and 16R Pro help businesses meet the expansion needs of tomorrow, today. The Lockerstor 12R Pro and 16R Pro come equipped with two x4 PCIe slots and one x8 slot for SAS cards to use SAS drives and SAS expansion boxes, allowing easier capacity expansion and seamless integration with existing server drives. Moreover, the PCI Express slots also enable seamless expansion of 10GbE /25GbE / 40GbE / 50GbE network card, enabling greater speeds than ever before.