Description
Intel Atom C3538 2.1GHz Quad-Core CPU
8 GB DDR4-2133 – 128 GB maximum
Two Gigabit Ethernet and two 2.5-Gigabit Ethernet ports. Can provide up to 5 gbps when aggregated.
Supports Wake-on-LAN and Wake-on-WAN
Complete iSCSI/IP-SAN and NFS support – Supports VMware, Citrix and Hyper-V – Supports virtual machines and Docker applications
Supports ACL and AD. Improves business application efficiency.
PCIe slot for 10-Gigabit Ethernet card
---
All New Hardware – Same Great Case
Intel Atom C3538 Quad-Core Server CPU
8GB DDR4-2133 SO-DIMM – 30% faster than DDR3
Dual Intel 2.5-Gigabit Ethernet ports – Supports up to 5 Gbps under Link Aggregation
PCIe slot for 10-Gigabit Ethernet cards
Supports USB 3.2 Gen 1 Type-A

---
Enterprise Backup
The Lockerstor 12RD has complete backup and safety mechanisms by including dual backup power supplies for safety while including four Ethernet ports for additional performance and redundancy. Two Gigabit and two 2.5-Gigabit Ethernet ports adorn the rear of the NAS, ensuring that everyone can access their files quickly and efficiently. The Lockerstor 12RD makes no sacrifices by ensuring zero downtime if a port or power supply is offline.
---
"Find Me" Function and Service Light for Server Rooms
In enterprise environments, storage devices are commonly placed together in a server room. In order to allow administrators to quickly find the NAS from among many servers the Lockerstor 12RD(2U) provides a dedicated button on front panel. When this button is pressed, the LED service light on the rear panel of the NAS will light up. ASUSTOR also offers the mobile NAS management app, AiMaster which provides the exclusive Find Me function. When Find Me is activated, the system status light on the front of the NAS will flash and the system buzzer will sound, helping users to quickly find the NAS.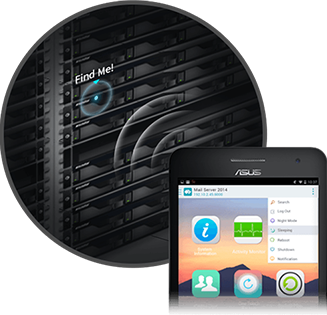 ---
Agile Expandability
The ASUSTOR Lockerstor 12RD rackmount series prepares you for the needs of tomorrow. PCIe expansion enables 10-Gigabit Ethernet can be installed to increase performance and expandability. Combine the Ethernet ports and connect to a 2.5-Gigabit Ethernet switch to take advantage of extreme speeds. Break free from restrictions with the Lockerstor 12RD.
---
Expand your storage space
A professional grade NAS needs to be equipped with a diverse array of expansion functionality. In addition to the 12 drive bays, we have also included 4 USB 3.2 ports, allowing you to create a tailored storage space for both your work and entertainment needs.