Description
Shift into overdrive with dual Intel 10GbE, M.2 SSD Cache and 2.5GbE!
Intel Denverton-based Atom C3538 Quad-Core CPU
8GB DDR4-2133 SO-DIMM – 30% faster than DDR3
Dual Intel 10-Gigabit Ethernet ports – Supports up to 20 Gbps under Link Aggregation
Dual Realtek 2.5-Gigabit Ethernet ports – Supports up to 5 Gbps under Link Aggregation
---
ASUSTOR Storage with Adobe Creative Cloud
ASUSTOR is an official Adobe Partner for video and audio solutions »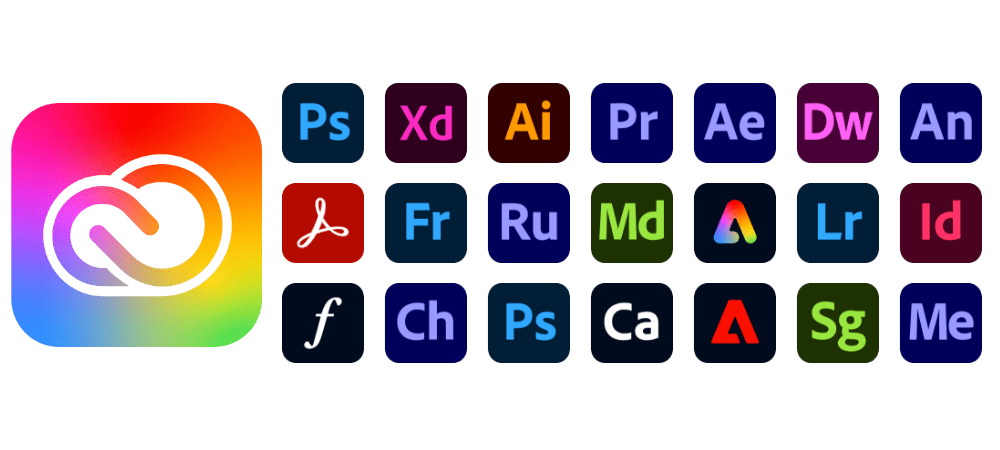 ---
Dual 10 and 2.5 Gigabit ports. Faster than ever.
The all new Lockerstor series of NAS feature dual Intel 10-Gigabit Ethernet ports as well as dual Realtek 2.5-Gigabit Ethernet ports. With a managed switch that supports multiple speeds, take advantage of up to 20 gbps of speed with both 10-Gigabit ports or up to 5 gbps on both 2.5-Gigabit ports.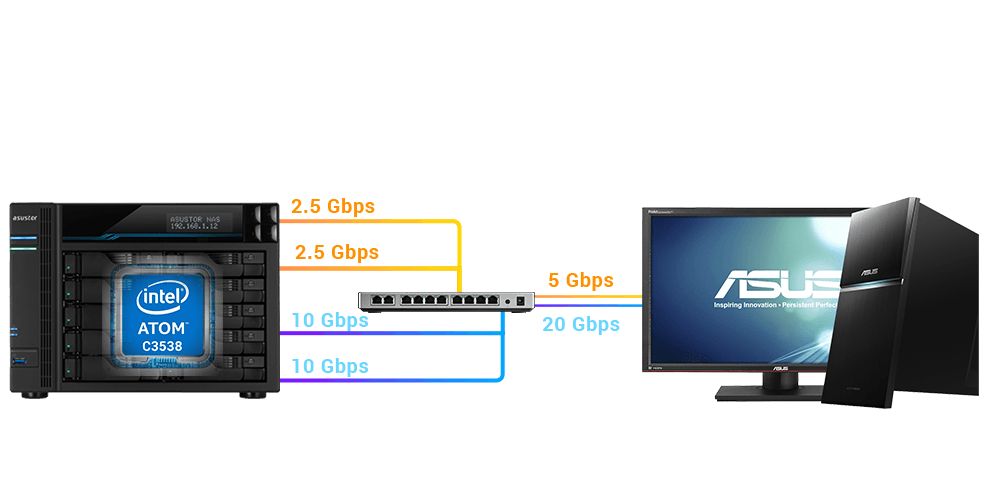 ---
SSD Cache
The recently updated ADM features an updated Linux Kernel and additional performance enhancements. The Lockerstor series introduce M.2 PCIe NVMe SSD caching increasing performance. 1. Lockerstor NVMe SSD caching increases performance by up to 60%. 2. Lockerstor NVMe SSD caching is faster than if all bays were filled with SATA SSDs while remaining cheaper. With dual 10-Gigabit Ethernet, bottlenecks on NVMe SSDs have been lifted, making the Lockerstor one of the fastest NAS devices ever.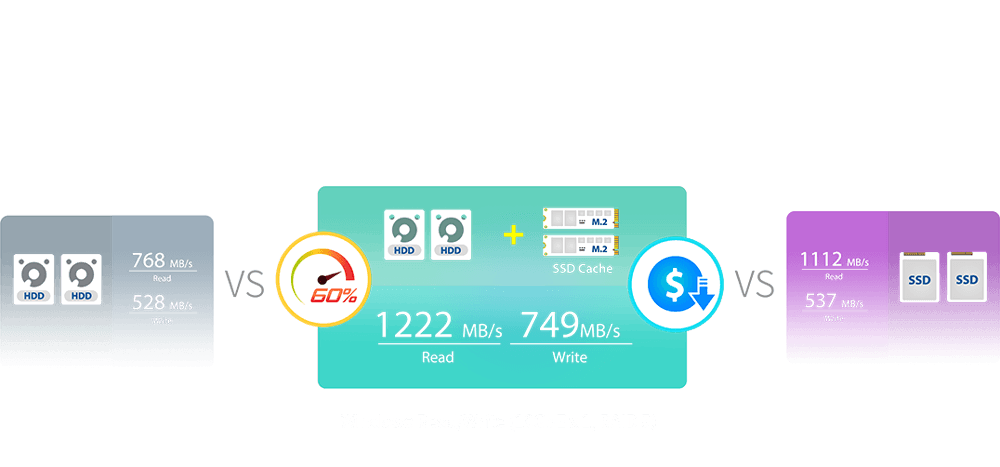 ---
Ten Bay with M.2 SSD Cache flexible storage
The AS6510T is a cost-effective large capacity NAS designed for enterprise environments.The AS6510T supports online capacity expansion, allowing for the flexible purchase of enterprise storage equipment. When your budget and storage requirements are smaller, you can purchase a smaller number of hard disks. Additional disks can be purchased as your storage requirements grow. Combined with ASUSTOR's MyArchive storage technology, this allows you to effectively achieve unlimited storage.
.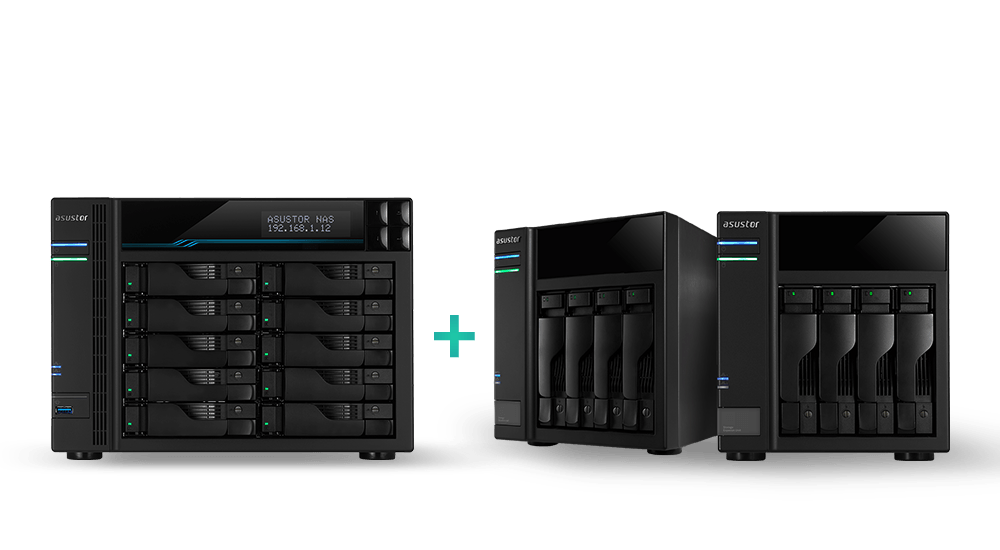 ---
24/7 Reliability and Durability
All ASUSTOR NAS are designed for and are suitable for 24/7 use. ASUSTOR NAS devices have also undergone rigorous tests, such as drop tests and burn tests to test durability in extreme conditions. Heatsinks were added to sensitive components to dissipate heat, helping to maintain the longevity of the device.

---
Protected From the Inside and Out
Protect your data from loss, damage and attacks with the Nimbustor 2 and 4. A Nimbustor is better protected by running the Linux-based ADM, employing a built-in firewall, ClamAV Antivirus, MyArchive and ADM's various backup tools help protect ransomware even better.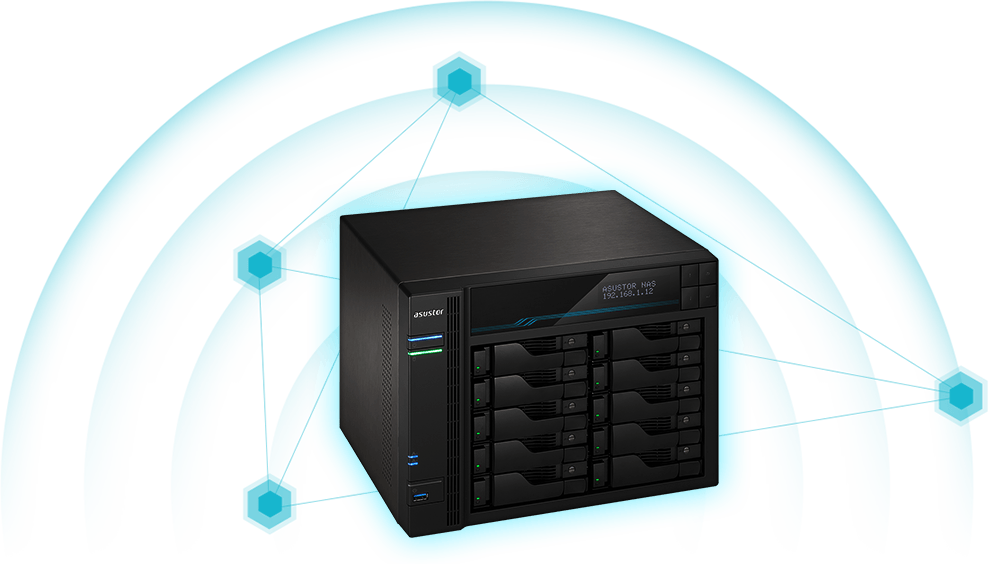 ---
Wake Up From Anywhere
The Lockerstor 8 and 10 feature Wake on WAN technology. No specialized equipment or settings are needed to wake the NAS. Simply use ASUSTOR's wide variety of mobile apps, including but not limited to AiMaster, AiMusic, AiVideos and AiData to turn the NAS on or off remotely. Wake on WAN helps protect data by keeping the NAS powered off when not in use; thereby helping to prevent attacks, protects data integrity by remaining powered off during power failures and Wake on WAN also saves electricity, making for an even more efficient NAS.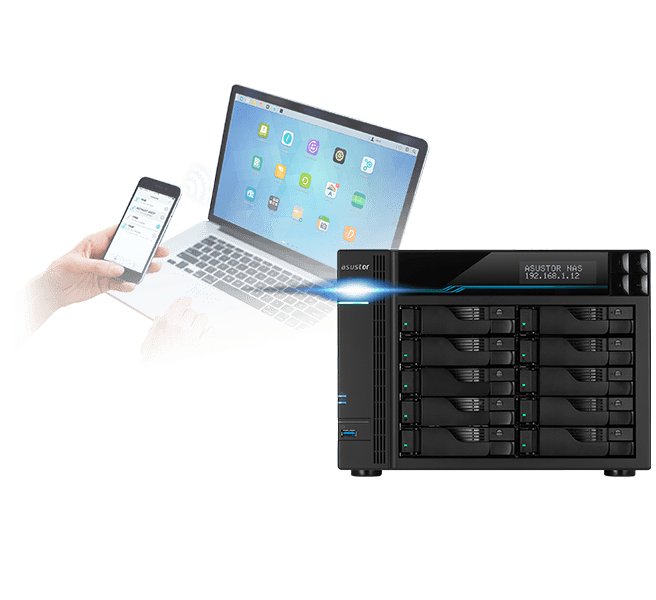 ---
Comprehensive Backup Solutions
ASUSTOR's comprehensive backup solution provides more than twelve backup options, including, but not limited to Amazon S3, Dropbox, Google Drive, and Onedrive. ASUSTOR Backup Plan for Windows as well as Time Machine for macOS provide easy backups for desktop and laptops while MyArchive removable hard drives provide long term storage. Btrfs is now supported and with Snapshot Center, can take snapshots of your information in the event of unintentional modification. Restore previous versions easily with Snapshot Center.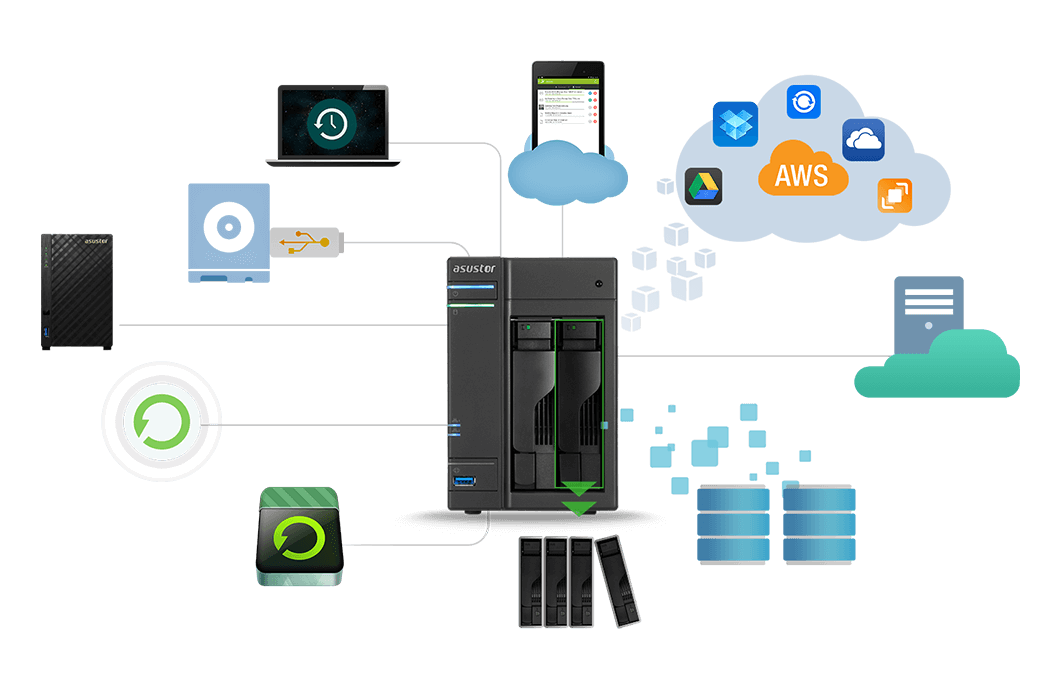 ---
ASUSTOR EZ Sync
All new UI. Simpler and easier to operate. View NAS information quickly.
More complete settings – offering detailed folder lists. Easily select folders and files not in a folder.
Notifications for abnormal status
Support 2-step verification increase account safety.
Improve NAS connecting and file sync system stability for better user experience.