The ideal entry level NAS for the digital home
Ultra-quiet, comprehensive cloud storage
Exceptional transfer performance
Ultra-quiet operation
Energy efficient low power consumption
Hand screw design for toolless installation
Stylish diamond-plate finished cover design
---
CPU upgrade to improve product performance
The AS10 v2 series has been upgraded with a new dual-core 1.6 GHz CPU, which is even better than ever! Through hardware and software optimization, the new AS10 v2 can provide over 110 MB/s of read performance and write speeds of over 98 MB/s, which is 20% faster than the previous generation. At the same time, overall system performance, ADM OS, app installation and execution, photo album browsing, file uploading and downloading have also been improved, making work faster and more efficient.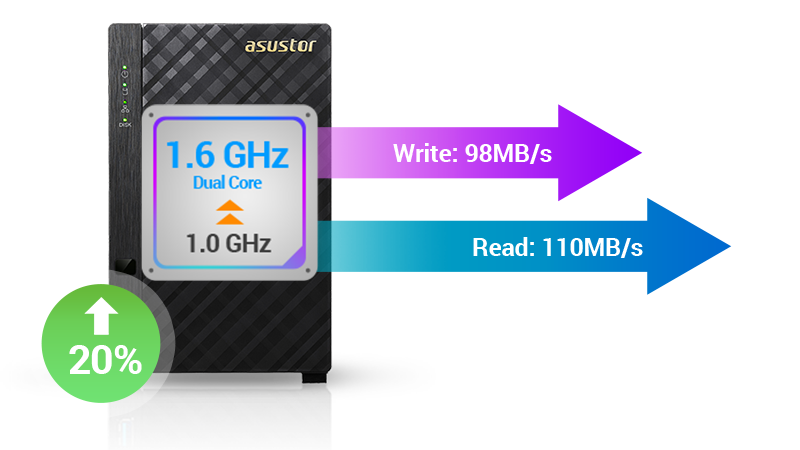 ---

Flexible configuration capacity
The AS10 v2 series features an updated internal hard drive slot design that is fully compatible with 3½" hard drives. It also supports hard drives with a large capacity and improves the flexibility for those who wish to build private clouds.

---

Toolless installation
The AS10 series' sliding outer cover design allows it to be conveniently removed when needed. The inner hard disk rails and outer cover all use hand screws allowing for the simple installation of hard disks without any extra tools.
---

Ultra-quiet operation
The AS10 series devices produce only 19 decibels of noise during system standby, equivalent to the almost inaudible sound of a pin drop. During system operation, only 32 decibels of noise is produced, equivalent to the hushed tones of a quiet library, allowing the AS10 series devices to seamlessly and comfortably integrate into any living environment.
---

Ideal home multimedia server
The AS10 series' built-in CPU floating-point unit is able to quickly process large amounts of photo thumbnails, allowing you to instantly transfer and browse photos at any time. The rich variety of multimedia server applications are able to smoothly stream high definition multimedia entertainment to devices such as UPnP/DLNA players, Web browsers on computers, tablets and smartphones.
---

Save power to save money
ASUSTOR NAS products are designed and developed around ecologically friendly concepts. When in use, our devices consume far less power than the average computer or server. Furthermore, our advanced power control features allow you to more efficiently manage your NAS device and hard drives. This lowers your electric bill and prolongs the lifespan of your hard drives all at the same time. While in disk hibernation, the AS1002T v2 consumes only 6.9 W of power. Under normal operating conditions it still only consumes 14.1 W of power.