A Stunning Multifunctional 4K Quad-Core NAS
A low maintenance cloud storage solution featuring a stylish, modern design and cutting-edge specifications.
Enjoy a sparkling 4K multimedia experience that is sure to enhance your digital lifestyle.
---
Choice Components: An Exquisite Experience
Intel Celeron quad-core processor provides elite performance More powerful graphics processing provides a crystal clear ultra smooth viewing experience
---
Timeless Style
The AS3204T series devices redefine the aesthetics of a NAS. The stylish diamond-plate finished cover makes it an elegant addition to any space.
---
Quad-Core Power: Topflight Performance
Equipped with Intel Celeron quad-core processors and 2GB of dual-channel memory. Features read/write speeds of over 112 MB/s and 110 MB/s under RAID 5 configurations.
Built-in Intel AES-NI hardware encryption engine features read/write speeds of 112 MB/s and 80 MB/s, giving you both performance and security advantages. Your data is completely protected from the moment it is first stored on the NAS.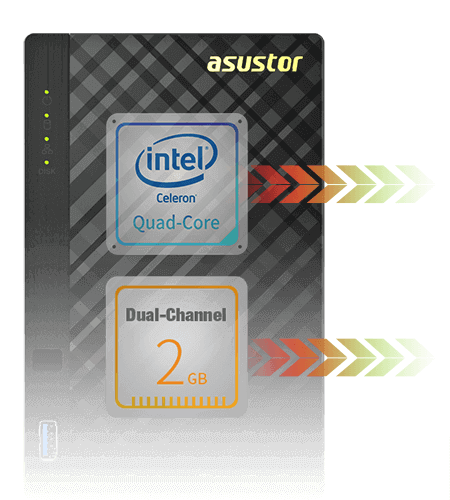 ---
Simple to Set Up
Toolless Hardware Installation
The sliding outer cover design and hand screws allow for easy installation and setup in minutes without any extra tools.

PC-less Software Installation
Mobile installation with AiMaster takes only 3 steps! Finding your NAS, system initialization and installation, power management, ADM firmware updates, system information and more are all available from the convenience of your mobile device at any time.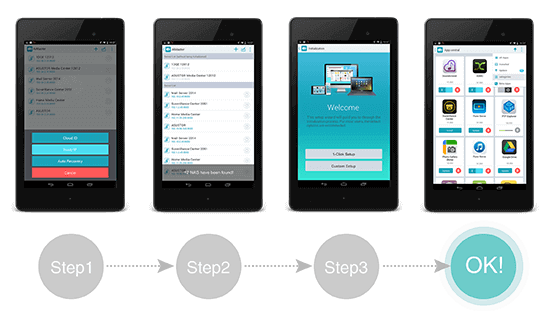 ---
High capacity cloud storage for all your digital assets
The AS3204T provides a large capacity NAS for home users at an affordable price. Users can install four 10 TB hard disks to immediately create a high capacity storage space of up to 40 TB. When taking photos or recording videos of family vacations, gatherings and other cherished memories, users no longer need to be confined to the limited storage on memory cards. With the high capacity AS3204T, users can save all of their videos and photos in high quality resolution, preserving them perfectly. Additionally, RAID 5 and 6 storage volume setting provide comprehensive protection for all digital assets stored on the NAS, minimizing the risk of data loss due to hard disk failure or accidents.
---
Cross-Platform Multi-User Access
The AS3204T provides seamless cross-platform and multi-user access, allowing you to easily connect to your NAS from Windows, Mac OS X or Unix-like operating systems no matter if you are using a PC, notebook, tablet or smartphone.
Comprehensive Backup Solutions
AS3204T series devices provide a variety of backup options and are connected to a variety of public cloud storage services including Amazon S3, Dropbox, Google Drive, OneDrive, Box.net, HiDrive, Ralus, WonderBox, xCloud and CrashPlan.
You can also use FTP Explorer, USB external hard drive enclosures, external hard drives and local backup to ensure proper backup for your data. No matter if you are using Windows, Mac or Linux, ASUSTOR provides the proper tools for your backup needs.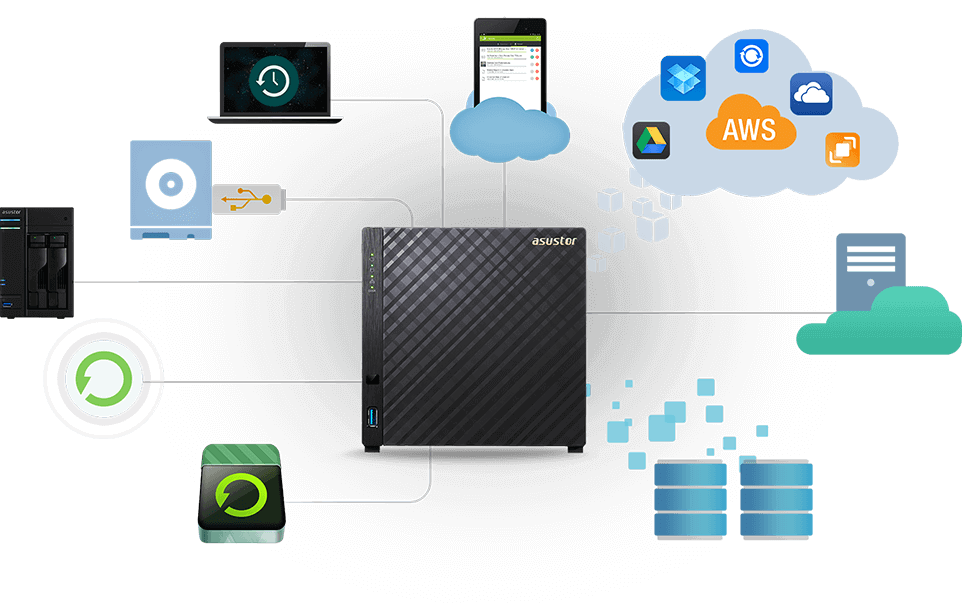 ---
App Central
Unleash the unlimited potential of ASUSTOR NAS. The applications that come pre-installed with each ASUSTOR NAS device are just the beginning. At your convenience, you can browse through and download any applications that peak your interest from App Central. Whether your interests lie in business, website construction or even digital home entertainment, App Central has got you covered. With over 200 unique Apps, App Central provides you with the boundless variety of applications that you require to satisfy your digital lifestyle needs. Explore the unlimited potential of ASUSTOR NAS devices while creating a personalized NAS device for yourself.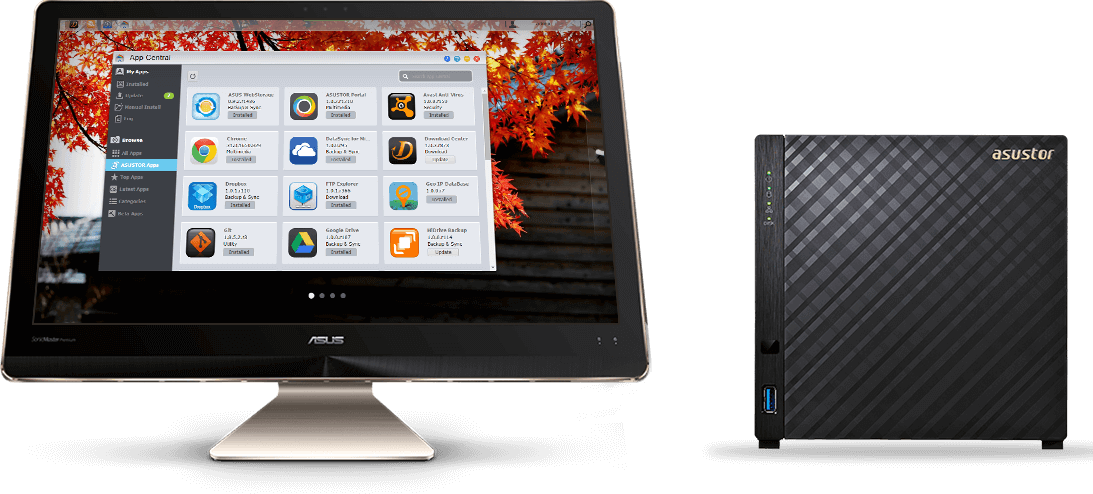 ---
Ultimate Home Multimedia Center
Enjoy electrifying digital entertainment on demand with ASUSTOR NAS. The built-in HDMI interface and variety of multimedia Apps let you to enjoy all of your favorite multimedia from your NAS by directly connecting it to an LCD/LED TV or amplifier. What's more, through ASUSTOR's App Central, you can install additional multimedia server Apps such as UPnP Media Server and iTunes Server giving your NAS the ability to stream multimedia content to your computers, TVs and mobile devices.

---
Electrifying 4K Multimedia with Kodi
Use Kodi to watch your favorite movies with family and friends! Simply open up ASUSTOR Portal and Kodi and choose the movie you want to watch! You can also add a surround sound amplifier to create an unprecedented high definition multi-channel listening experience.
Your Dedicated Cinema: LooksGood
LooksGood allows you to browse through all the multimedia content on AS32 series devices, creating a dedicated multimedia database. You can also schedule digital TV recordings, ensuring that you will never miss your favorite shows again. Use Aivideos to browse through the video collection on your NAS. No more waiting for downloads to complete! Simply tap on a video to begin streaming in high definition 1080p to your mobile device!
Recapture Your Favorite Memories with Photo Gallery
Unforgettable vacations, reunions, weddings, graduations and more. Photo Gallery helps you organize your photos and videos from all those magical moments in your life. Album covers feature 5 thumbnails, which allow you to view its contents in one quick glance. 1-click sharing to social media allows you to instantly share photos with friends and family, while the free AiFoto mobile app provides instant backup of any photos you take.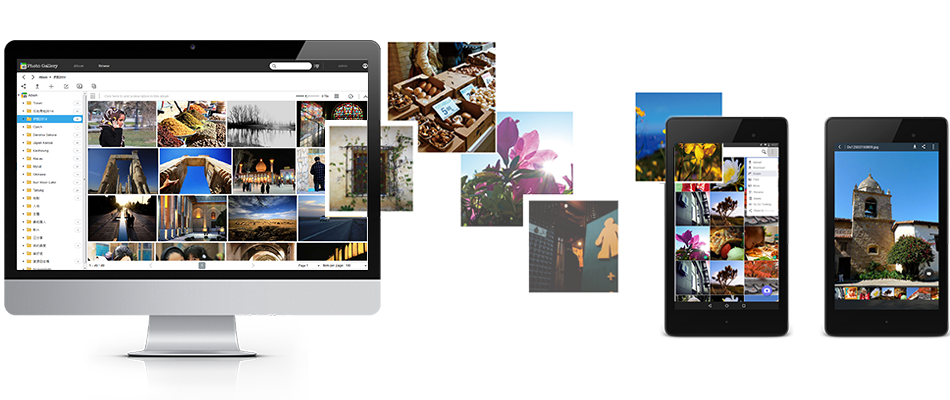 ---
Music Box SoundsGood
Sounds good is a Web music player that can play all the music stored on your NAS over the Internet. Now you can access your music from anywhere and even share your music collection with family and friends. With SoundsGood, each user can have their own personalized music collection and playlists. You can also stream music directly from your NAS to your mobile device after installing the free AiMusic app.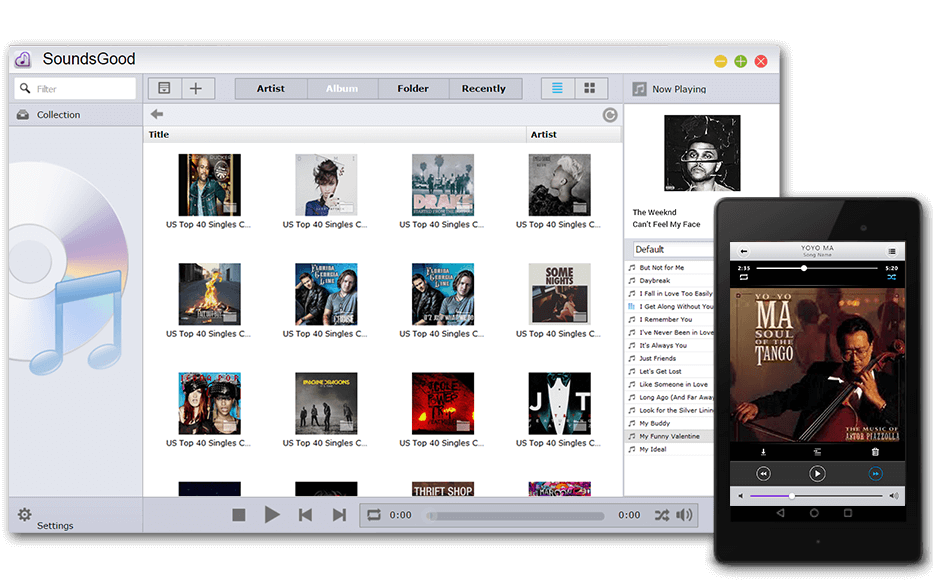 ---
Hi-Res Player for Your DSD Audio
ASUSTOR continues to lead the industry, and is the only brand in the world to support 11.2 MHz high resolution audio output. The Hi-Res Player App combined with the AS31 series' high performance DSD transcoding provide a breathtaking listening experience that allows you to hear the subtle details and full dynamic range of your favorite music as if you were enjoying a live performance. Hi-Res Player also allows you to create a music sharing folder to share your music collection with family and friends.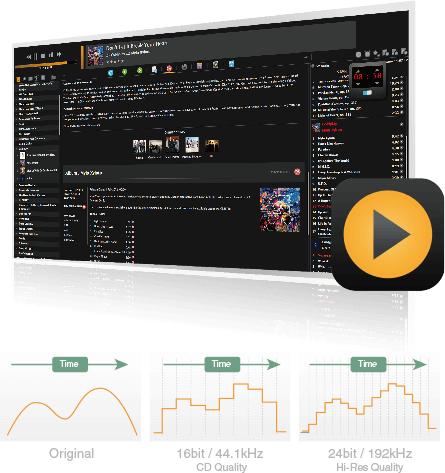 ---