Designed for your growing business
Intel quad-core processor provides exceptional reliability and stability
Complete iSCSI and NFS support. VMware, Citrix and Hyper-V ready.
Provides iSCSI LUN snapshots, effectively protecting data and ensuring continuous enterprise operation
Support for RAID 0,1,5,6,10 and hard drive hot swapping
Windows ACL support combined with Windows AD infrastructure enhances management efficiency for business applications
New disk tray locks ensure that hard disks will not be accidentally ejected during operation
---
The first NAS models to be powered by the latest Intel Celeron processors
AS62 series devices are powered by IntelCeleron Braswell quad-core processors, equipped with 4GB of dual-channel memory, and feature read speeds of over 398 MB/s and write speeds of over 355 MB/s under RAID 5 configurations.

---
Hardware encryption engine
Focusing on enterprise-class file encryption needs, ASUSTOR has launched the AS61/AS62 series models with built-in hardware encryption engines, allowing data to be completely protected from the moment it is first stored on the NAS. This means that you never have to worry about your confidential data falling into the wrong hands even if your hard disks become lost or stolen. The built-in AES-NI hardware encryption engine also provides read speeds of over 224.71 MB/s and write speeds of over 132.56 MB/s for encrypted data*.
*Windows Sequential Read/Write (10GB file, 1GbE x 4 Link Aggregation ALB, AES256)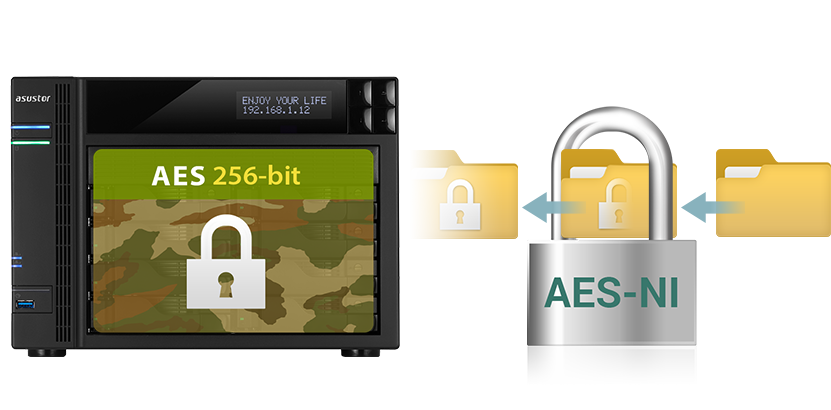 ---
Connect with a new generation of I/O technology for limitless possibilities
A professional grade NAS needs to be equipped with a diverse array of expansion functionality. ASUSTOR has built in USB 3.0, USB 2.0, eSATA, gigabit Ethernet and HDMI 1.4b ports along with a high fidelity audio S/PDIF port, allowing the NAS to connect to different types of external devices and not be limited to its internal capacity. ASUSTOR NAS redefines the meaning of flexibility and expandability in network storage.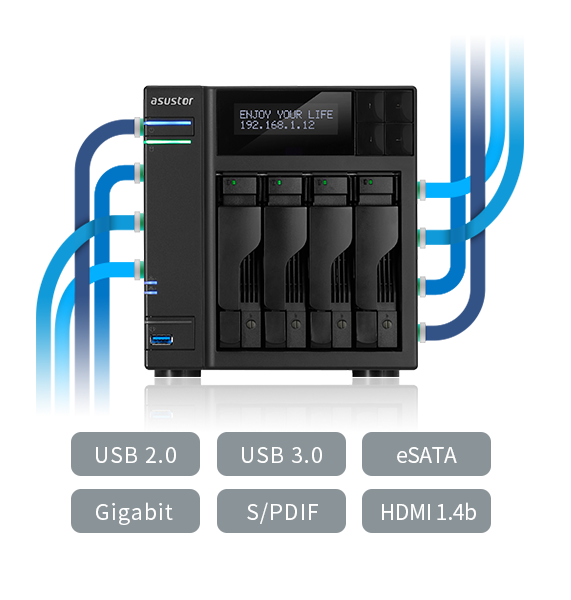 ---
Effortlessly upgrade memory
Depending on your usage preferences, you can decide whether or not you want to upgrade memory. AS61/62 devices provide users with the ability to flexibly upgrade memory so there is no need to worry about the memory before you purchasing the device. When upgrading memory, you simply need to remove the cover of the NAS to do it (There are 2 expansion memory slots in total. Memory can be expanded up to a maximum of 8GB.), letting you easily improve system performance and allowing your NAS to simultaneously run more Apps.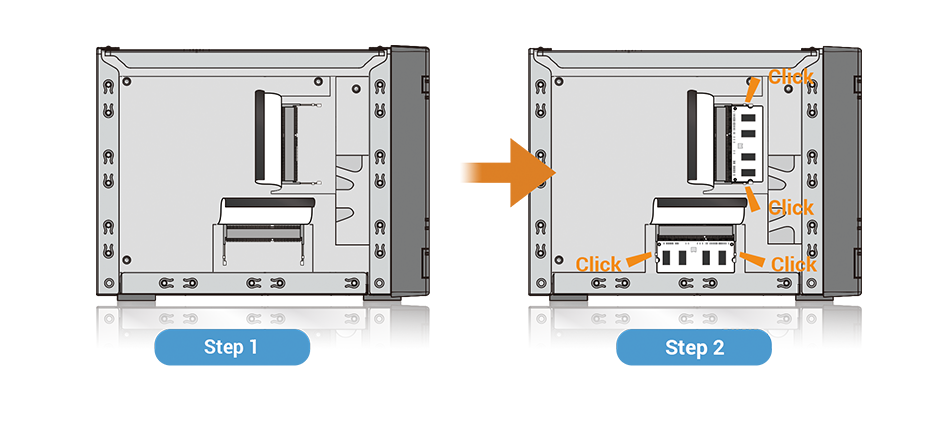 ---
Quick and Easy File Access
The built-in File Explorer App allows you to access the files on your NAS through a Web browser. Enjoy drag and drop file transfers along with a directory structure view that lets you easily organize your data. Accessing files on your NAS never been easier.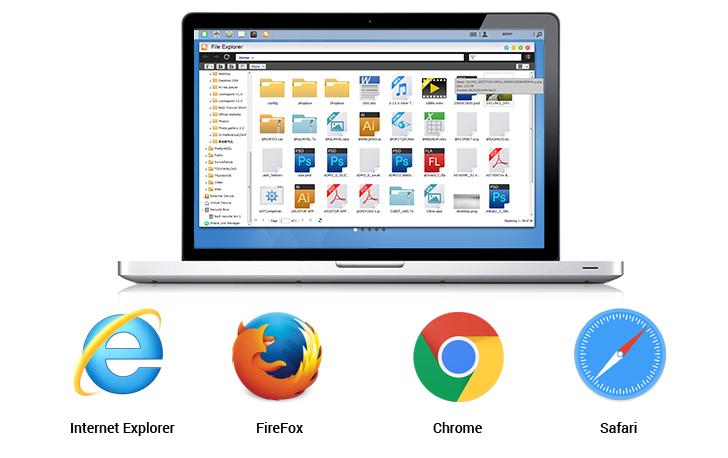 ---
iSCSI LUN Snapshots
ASUSTOR's snapshot technology provides almost instantaneous creation of snapshots. It saves a significant amount of time and storage capacity when compared with traditional LUN backups.
Should files become damaged or corrupted, the simple and intuitive interface allows administrators to quickly restore data, completing disaster recovery in the fastest time possible and providing uninterrupted service.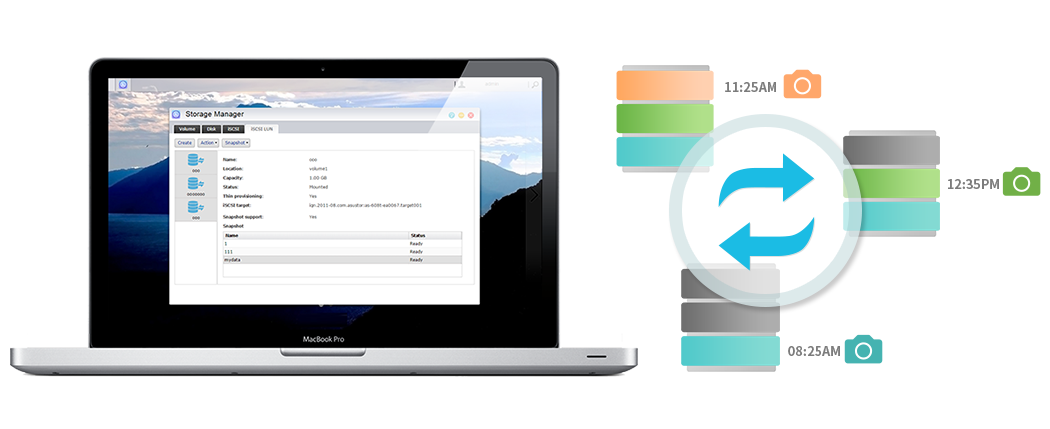 ---
Scheduled iSCSI LUN snapshots
Configuring scheduled iSCSI LUN snapshots allows the system to automatically take regular snapshots based on the specified time period, providing continuous protection of LUN data without needing any manual operation or significantly affecting system performance.

---
Create a Stable, Reliable and High Quality Surveillance System
The powerful AS61/AS62 Series devices provide you with stress free reliability when installing a surveillance system in your home or office environment. Installing the Surveillance Center App from App Central instantly turns your NAS into 24/7, high definition surveillance system. Surveillance Center provides comprehensive cross-platform support, allowing both Windows and Mac users to use familiar web browsers to access their surveillance feeds. Furthermore, ASUSTOR also offers the free AiSecure mobile app that gives users access to all their surveillance feeds while on the go. AiSecure also provides the ability to receive instant push notifications from Surveillance Center, allowing users to keep up with the latest developments. No matter if you need to protect individual assets, loved ones or your business, the powerful AS61/AS62 Series devices are your optimal choice when creating a comprehensive surveillance system.
*Surveillance Center comes with 4 free IP camera channel licenses, which is higher than the industry standard. Users can also purchase add-on camera licenses to flexibly add new camera channels.
*Two different camera license packages are offered: single channel and 4 channels. Currently, the AS61/AS62 Series devices can be expanded up to a maximum of 25 channels.
*The maximum number of cameras is based on the test results for each channel using 720P (1280×720), 30 FPS and H.264. Actual performance may vary due to camera settings and NAS load.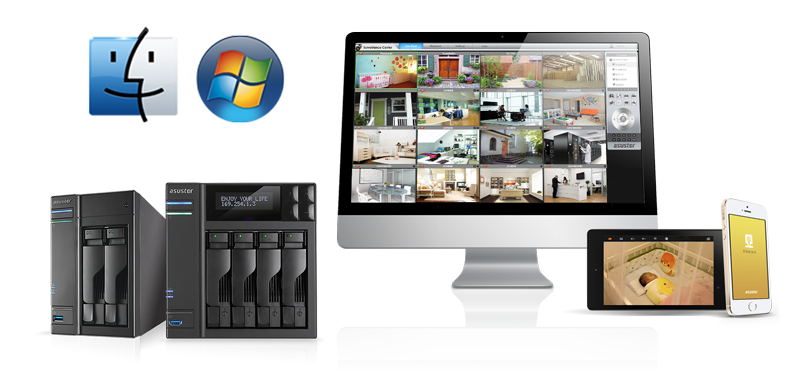 ---
Create the Ultimate Home Multimedia Center
Enjoy electrifying digital entertainment on demand with ASUSTOR NAS. The built-in HDMI interface and variety of multimedia Apps let you to enjoy all of your favorite multimedia from your NAS by directly connecting it to an LCD/LED TV or amplifier.
ASUSTOR NAS supports Full HD (1080p) output, allowing you to savor your movies, TV shows, music and photos in high definition. What's more, through ASUSTOR's App Central, you can install additional multimedia server Apps such as UPnP Media Server and iTunes Server giving your NAS the ability to stream multimedia content to your computers, TVs and mobile devices.
Additionally, you can also further add a surround sound amplifier to create an unprecedented high definition multi-channel listening experience. Imagine watching your favorite racing movie and being immersed in the roar of the engines. Feel the thrill and the sense of speed as you listen to the sounds of cars whizzing by. Prepare for an unparalleled entertainment experience that will have you on the edge of your seat.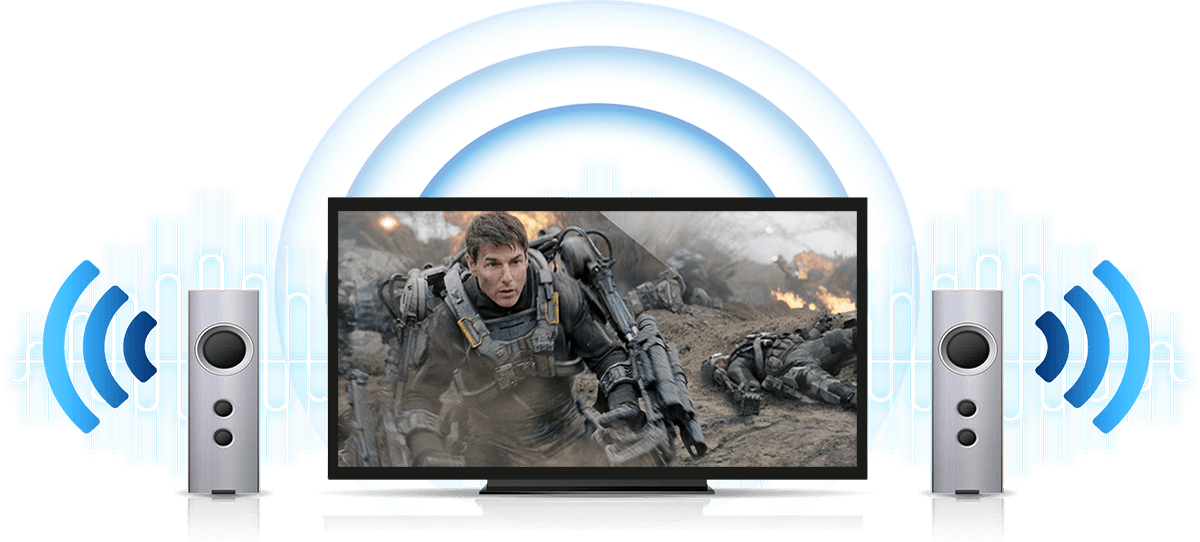 ---
Spesifikasi Hardware
CPU: Intel Celeron 1.6GHz Quad Core (burst up to 2.24 GHz) Processor
AES-NI hardware encryption engine integrated
Hardware acceleration engine supported format: H.264 (AVC), H.265 (HEVC), MPEG-4 Part 2, MPEG-2, VC-1
Memory: 4GB SO-DIMM DDR3L (2GB x 2, Expandable. Max 8GB)¹

Note:

When expanding AS61/62 series memory, please ensure that both memory modules you are installing are of the same size.
When purchasing 8GB RAM modules, due to AS61/62 series platform limitations, you will only be able to install a single 8GB RAM module. The original RAM modules must be removed. It is not possible to have two 8GB RAM modules installed. Please see the graphic.
Installable RAM module combinations are as follows:

1GB + 1GB
2GB + 2GB
4GB + 4GB
Single 1,2,4, 8GB module installed in the first memory slot.

HDD: 2.5″ / 3.5″ SATA II/ III or SSD x 8²
Maximum Internal Raw Capacity: 80 TB  (10 TB HDD X 8, Capacity may vary by RAID types)
Supports Hot Swappable Drives
Expansion: USB 3.0 x 3, USB2.0 x 2, eSATA x 2
Network: Gigabit Ethernet x 4
LCD Panel
Output: HDMI 1.4b x 1, S/PDIF x1
System Fan: 120mm x 2
Infrared Receiver
Audio Output: S/PDIF
Input Power Voltage: 100V to 240V AC
Certification: FCC, CE, VCCI, BSMI, C-TICK
Operation
Power Consumption:
59.5W (Operation);
31.2W (Disk Hibernation);
1.5W (Sleep Mode) ²
Noise Level: 22dB (HDD idle)
Operation Temperature: 0°C~40°C (32°F~104°F)
Humidity: 5% to 95% RH
ASUSTOR Hightlight
System Migration
Cloud Connect
Dr.ASUSTOR
2-way Backup
Task Monitor
Eco-Friendly Design
System Automatically Enters Sleep Mode (Schedule S3)
Auto-Standby for Both Internal and External Disks
Auto Fan Control
LED Night Mode
Power Schedule: On, Off, Restart, and Sleep.
Size and Weight
Size: 215.5(H) x 293(W) x 230(D) mm
Weight: 6.2 (kg) / 13.67 (lb)